b:

California, USA

live/work:

Los Angeles

contact:

practice at kposehn dot com
Kristin Posehn is an artist and writer based in Los Angeles. She received a Ph.D. in Sculpture from the Winchester School of Art, Winchester, UK, held a two year research and production residency at the Van Eyck, Maastricht, NL, and was awarded the Hermine Van Bers Art Prize, NL, 2009. She was a Visiting Tutor at the Ruskin School of Painting and Drawing, Oxford University, UK, for 2010. An exhibition of her work is permanently on view at the Center for Land Use Interpretation, Wendover. The Center for Art + Environment, Nevada Museum of Art, has collected materials and documentation from her architectural installations, and dedicated an exhibition to this work titled "Kristin Posehn: Architectures" in 2017.




Posehn's first book was a novella about an artwork, titled Reclamation and published by the Van Eyck, Maastricht, 2012. Her short story "Boy With Frog" was published by The White Review, London, UK, 2016, and "Playing the Whip" was published in the Conjunctions, Fall 2017, Bard College, NY, edited by Bradford Morrow.
Education
PhD Fine Art, Sculpture Department, Winchester School of Art, UK, 2007
MA Sculpture, with distinction, Winchester School of Art, UK, 2002
BA Visual Art, with distinction, Duke University, Durham, USA, 2001
Selected exhibitions
2017 Kristin Posehn: Architectures Center for Art + Environment, Nevada Museum of Art, Reno, NV, USA
2017 Kristin Posehn: Reclamation Center for Land Use Interpretation, Wendover, NV, USA
2015 – 2017 A house made of air and distance and echoes abandoned airfield, CA, USA
2015 Treffpunkt Rodchenko Worker's Clyb, Kunstmuseum Luxembourg, Brno, CZ
2014 distracted-workshop 26th International Biennale of Graphic Design, Brno, CZ
2014 DRESDEN PUBLIC ART VIEW International billboard exhibition, C. Rockefeller Center for Contemporary Art, Dresden, DE
2014 Out of Stasis part of Justifiable Versions of Events at ACUD Studio, Berlin, DE
2013 Of Those Who Inhabit Rooms Twelve Cells for the Intoxicated, Brussels, BE
2013 With Torch and Spear Winchester Gallery, Winchester, UK
2012 CUBE OPEN Center for the Urban Built Environment, Manchester, UK
2011 N34 - Landscape in transit CBK Drenthe, Assen, NL
2010 RSVP aspex, Portsmouth, UK
2010 Acute Melancholia Studio 44, Stockholm, SE
2010 Artist & Artifact Brooklyn Historical Society / BRIC Gallery, Brooklyn, USA
2008 Reclamation Museum de Paviljoens, Almere, NL
2008 Chanting Baldessari Bonnefanten Museum, Maastricht, NL
2008 Parlor and Roseville Kate Werble Gallery, New York City, USA
2007 Kristin Posehn Netwerk / Center for Contemporary Art, Aalst, BE
2007 Geisai Miami Pulse Contemporary Art Fair, Miami, USA
2006 Fordham Netwerk / Center for Contemporary Art, Aalst, BE
2006 Year_06 Year_06, Keith Talent Gallery, London, UK
Residencies
2013 (with Geoff Dyer) Atlantic Center for the Arts, New Smyrna, Florida, USA
2008 – 2010 Research fellowship in fine art, Jan van Eyck Academie, Maastricht, NL
2007 The Center for Land Use Interpretation, Wendover, Utah, USA
2007 Netwerk Center for Contemporary Art, Aalst, BE
Grants & awards
Hermine van Bers Art Prize, NL, 2009
Research and production grant, Brooklyn Historical Society, NYC, USA 2008-2009
Faculty of Arts Major Studentship, Winchester School of Art, UK 2002-2006
Overseas Research Scholarship, Winchester School of Art, UK 2001-2002
Teaching
Visiting tutor, Ruskin School, Oxford University, Oxford, UK, 2010
Visiting tutor, K_D Art and Design School of Oslo, Oslo, NO, 2006
Teaching assistant, BA Sculpture, Winchester School of Art, UK, 2002-2005
Calculus laboratory, Mathematics Department, Duke University, USA, 1998-2000
Talks & presentations
Artist talk, Center for Documentary Studies, Duke University, Durham, NC, USA, 2015
Reading, Atlantic Center for the Arts, New Symrna, Florida, USA, 2013
Reclamation (in conversation with Jonathan Griffin) Skylight Books, LA, USA, 2013
Artist talk, Ruskin School, Oxford University, Oxford, UK, 2010
A bridge between two rooms Opening week, JVE, Maastricht, NL, 2010
Artist talk, The Guesthouse, Cork, IE 2009
Untitled Against the Economic (conference), JVE, Maastricht, NL, 2009
Rocklin Opening week, JVE, Maastricht, NL, 2009
Artist talk, Maastricht University, Maastricht, NL, 2008
Butnot Reallyland Opening week, JVE, Maastricht, NL, 2006
Recent work Richmond University, London, UK, 2006
Recent work K_D Art and Design School of Oslo Oslo, NO, 2006
Recent work Richmond University, London, UK, 2005
Books & catalogs
Imagine Architecture Gestalten, Edited R. Klanten and L. Feireiss, Berlin, DE, 2014
the distracted-workshop newspaper a split/fountain collaboration with Xin Cheng, Jack Hadley, Layla Tweedie-Cullen, Jayme Yen; presenting actions by Chris Berthelsen, Nell May, Anne Fenton, Kristin Posehn, 26th International Biennale of Graphic Design, Brno, CZ, 2014
Reclamation Exhibition catalog / novella, Jan van Eyck Academie, NL, 2012
RSVP Aspex, Edited J. Bushnell and C. Caswell, Portsmouth, UK, 2010
Spacecraft 2 Gestalten, Edited R. Klanten and L. Feireiss, Berlin, DE, 2009
Chanting Baldessari Bonnefanten Museum, Maastricht, NL, 2008
Yearbook 2007 Netwerk Center for Contemporary Art, Aalst, BE, 2008
Periodical#07 Netwerk Center for Contemporary Art, Aalst, BE, 2007
Yearbook 2006 Netwerk Center for Contemporary Art, Aalst, BE, 2007
Periodical#03 Netwerk Center for Contemporary Art, Aalst, BE, 2006
25 Under 25 powerHouse Books, New York City, USA, 2003
Artist's publications
The Metropolis Chronicle offset, black and white, 16 pgs, edition 2750
Museum De Paviljoens and the Jan van Eyck Academie, NL, 2008
The Pacific Reclamation Company Brochure offset, color, 16 pgs, edition 2500
Museum De Paviljoens and the Jan van Eyck Academie, NL, 2008
Reviews
De Kantlijn pg 11, November, 2009
Zuiderlucht "Chanting Baldessari", by Duncan Liefferink, September, 2008
Guardian Guide review by Jessica Lack, pg 36, August 28, 2004
Guardian Guide Pick of the Week, pg 38, September 14, 2002
Magazines
Fields Magazine, Issue 6, USA, 2016
Vakantie bv N34 magazine, SKOR, CBK Drenth and ZUS, Groningen, NL, 2011
New York Times Style Magazine "The Remix; Made in Japan", December 2, 2007
Intersection Magazine (photographs for designer Bernadette Deddens) October 2006
Modern Painters (documentation of a performance by Mark McGowan) May 2005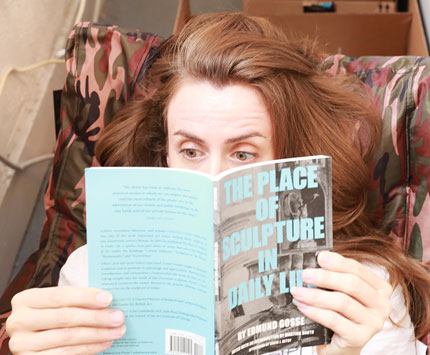 Photo: © Kristin Posehn Studio