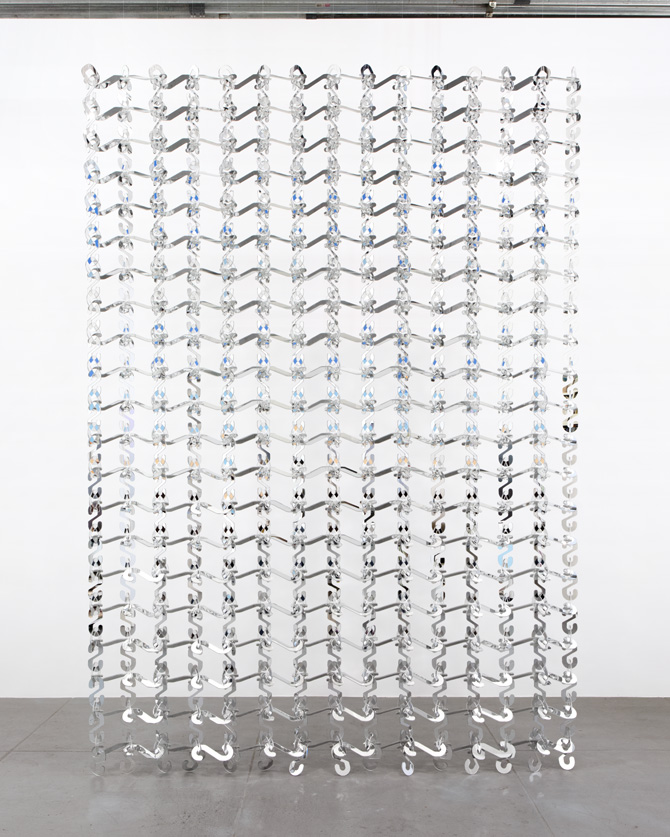 Ghost Pearls is an architectural sculpture that explores spaces of connection and mediation. The work is based on research into local and historical forms of lace-making, early digital art, and contemporary virtual space.
The sculpture is made from ~1000 pieces of rigid, individually-cut mirror woven into lace.
Lace is an open, web-like pattern. It came into prominence and fashion in the 16th century as a kind of proof-of-work, Veblen good, valuable in part because it required extraordinary attention and labor to produce. Lace is one of few examples in Western history where women's domestic work resulted in an exceptionally valuable and highly sought-after commodity. The word derives from the Old French las, meaning noose, akin to the Latin lacere, meaning to entice or ensnare. Lace has this capacity, to ensnare our gaze in its web.
As a sculpture, Ghost Pearls is both a physical and virtual weaving. When you approach, it poses questions, such as: Where are you, and what will you focus on? You can fall into the wobbly depths of its reflections, or focus on the fabric pattern itself, which oscillates in a wave form. It's both meditative and destabilizing as you move around, proffering shape-shifting views, superimposing what's behind you with the reflections of the ceiling, floor, walls to the side and in front.
We use mirrors every day in our homes for self-reflection, in our cars for navigation, and throughout city cores as cladding for skyscrapers. Here mirror becomes a woven, rippling wave, and an invitation to surf.
Ghost Pearls references lace in the collection of the Fairview Museum; conversations with local and regional lace-makers; historical links between lace, value, and time; the 1964 digital artwork Ninety Parallel Sinusoids with Linearly Increasing Period by A. Michael Noll; and works of the Light and Space movement.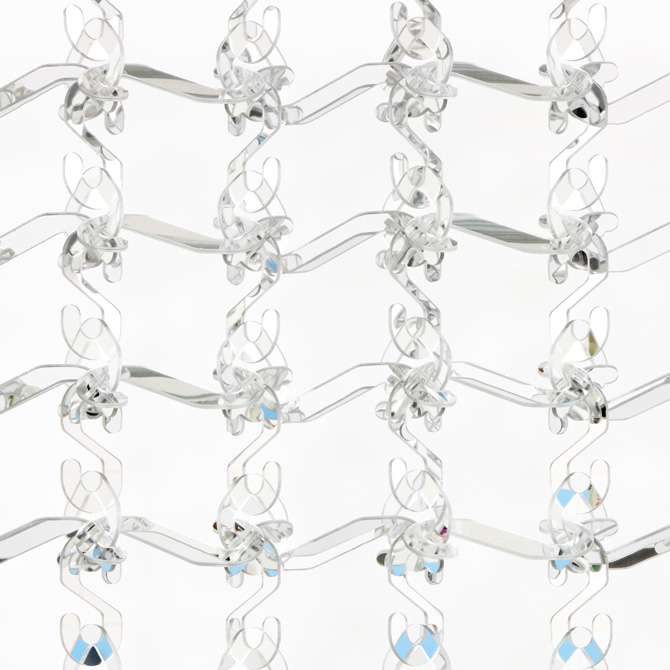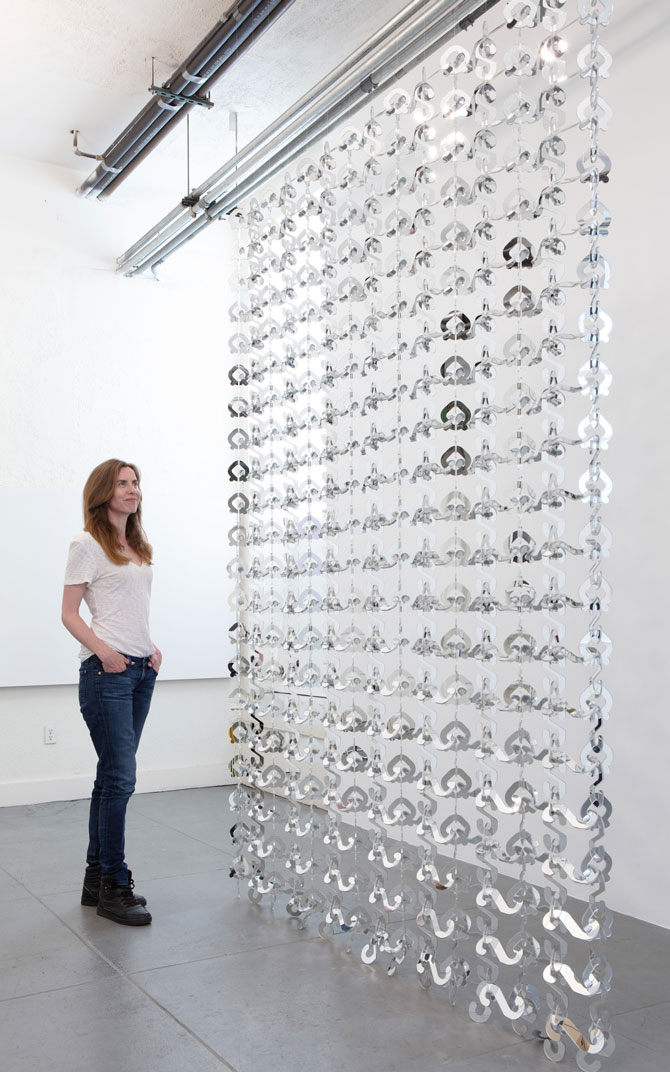 The work was first installed in a solo exhibition at Granary Arts. Images of that installation are included below: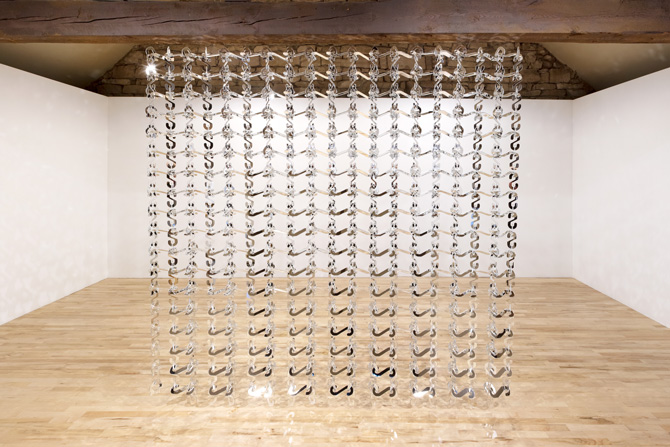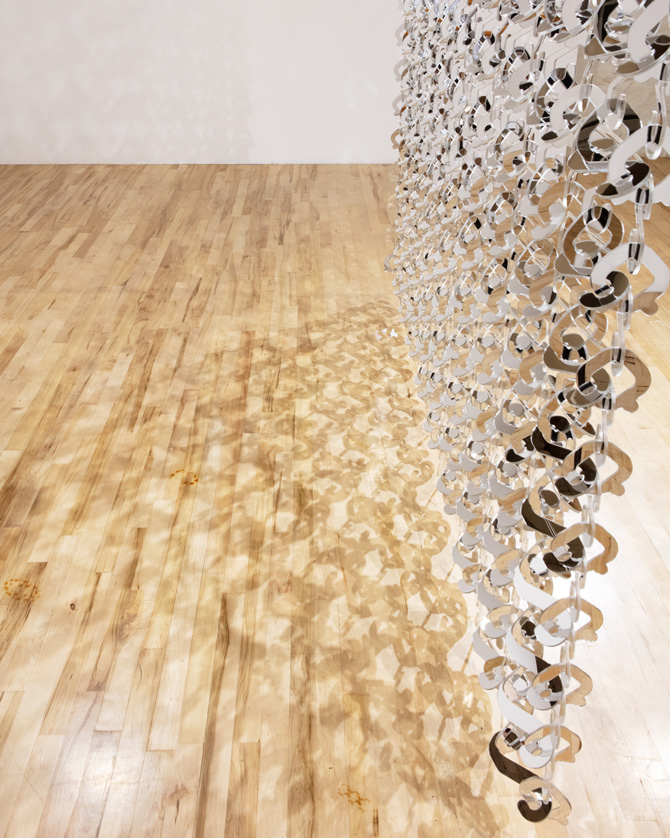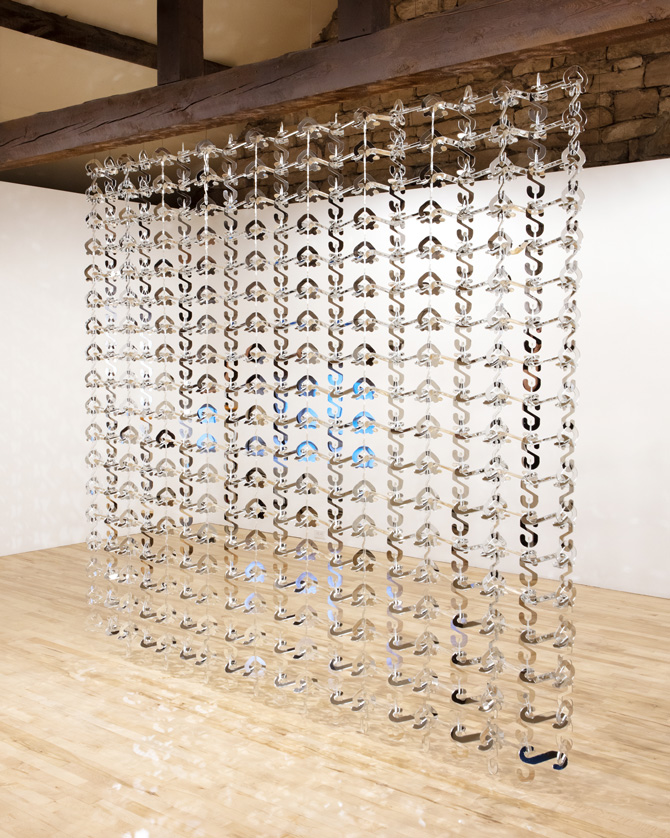 Made possible with the support of Granary Arts
With additional thanks to Amy Jorgenson, Kamilla Earlywine, Bryn Burningham, Elisabeth Fitch, and Ty Foster